About Us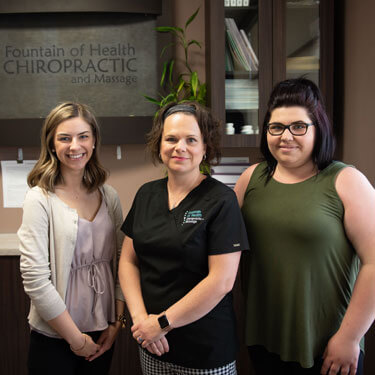 Since 2008, Dr. Karen Raiwet has been providing natural chiropractic care to the Medicine Hat community. She takes the time to get to know her clients and cares about what's going on in their lives and with their health.
My goal is to restore health the right way. I want to help you live your life the best way you can.

Dr. Karen Raiwet
Identifying and Removing Interference
Dr. Karen analyzes the components of the nervous system. She does so to determine where interference may be reducing your ability to express life fully. Your brain determines everything that happens to your body, and it is connected to the rest of your body through your spinal cord—your nervous system. You live your life through your nervous system.
There are three ways you can injure your nervous system. These are through trauma, toxins or thoughts. When injury occurs, interference builds up in those electrical patterns that are being sent from your brain. It becomes a bad game of telephone. "My job is to remove that interference through the adjustment so that your body can function the way that it's supposed to," says Dr. Karen.
Providing Pediatric and Pregnancy Chiropractic
As a mother, Dr. Karen loves to help kids get off to the healthiest start in life and maintain that health for a lifetime. After receiving chiropractic care, many of her young clients have been able to return to activities that they were sidelined from.
For pregnant women, chiropractic can help to reduce low back pain and pelvic discomfort. Dr. Karen is also certified in the Webster Technique, which helps ensure that the pelvis is correctly aligned.
MEET DR. KAREN »
Schedule an Appointment
Whether you want to get out of pain or are seeking a natural approach to better health, we want to help you. Contact Fountain of Health Chiropractic and Massage today to book an appointment! Free consultations are available.

About Fountain of Health Chiropractic and Massage | (403) 529-5972